Taking care of your skin is so important, and finding the best facial cleanser for your skin type is a crucial step in any effective skincare routine. Amongst an array of cleansing creams, milks and oils, foaming facial cleansers have become the latest disruptor in the market. 
Lightweight in texture, foaming cleansers have a beautifully gentle quality on the skin, while still providing a rich lather to cleanse away impurities. 
Discover how to use foaming cleanser to enjoy a wonderfully radiant complexion.  
Benefits of

Cleansing Foam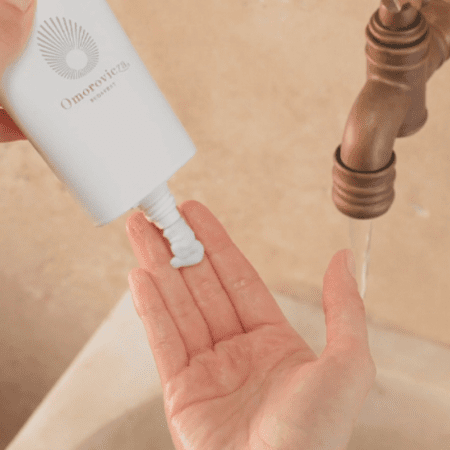 There are many benefits to opting for a foaming cleanser and here are just a few – 
Cleanses Sensitive Skin
Ideal for a morning cleanse or as a second cleanse in the evening – our cleansing foam, along with the entire Omorovicza range, is formulated without sodium lauryl sulphate (SLS) to perfectly complement all skin types – including sensitive skin. 
SLS

is a harsh cleansing agent often used in skin, hair, dental and even household cleaning products to remove dirt and oils. All skin types, but particularly those with sensitive skin, should avoid using products containing SLS or other synthetic ingredients

,

to ensure your complexion remains calm and nourished.
Maintains Skin Moisture:
Delicately scented with notes of orange blossom, this lightweight foam works to purify and refresh the skin, without overwhelming or stripping it of its natural moisture.  
Purifies and Balances:
Unsure as to what skin type foaming cleanser is best for? Its purifying qualities make it a great choice for those with oily or combination skin. Opting for a foam eliminates the use of oils or other ingredients that may imbalance oily skin. 
Foaming facial cleansers are also a good choice for those who wear makeup. In this instance, we recommend providing the skin with a double cleanse.  
Applying our Cleansing Foam as the second cleanse, following the Thermal Cleansing Balm, allows the product to break down and remove any remaining impurities. A clean base is essential to optimize the skin's ability to absorb other products in your skincare ritual. 
Discover more about how to double cleanse your skin here: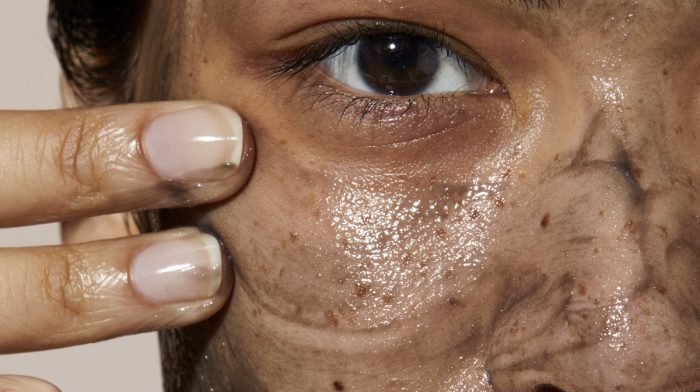 A two-step ritual, the double cleansing method leaves skin feeling purified, refreshed and revitalized, ready for the rest of your routine.
How to Use Cleansing Foam
Follow our expert guide on how to use foaming cleanser –  
Step 1 – Wet your Face
Start by dampening your face with lukewarm water – warmer temperatures allow the pores to open up for a thorough cleanse. 
Avoid using hot water, as it can strip your skin of its natural oils and leave it feeling dehydrated.
Step 2 – Apply the
Cleansing Foam
Apply a small amount of foaming cleanser to your fingertips and gently massage into the face and neck using circular motions.  
Ensure you thoroughly work it into your skin, focusing on areas such as the T-Zone where you have excess oil, visible blemishes or other impurities. 
Step 3 – Thoroughly Rinse
Rinse your face thoroughly with lukewarm water, making sure to remove all traces of the cleanser.  
Expert Tip: When removing the foam, focus on the hairline and jawline. These areas can often be accidentally missed, leaving excess product. This can dry and congest the skin, potentially encouraging blemishes.  
A damp cleansing mitt can be used in these areas to ensure a rigorous removal. 
Step 4 – Press the Skin Dry
Dry the skin by gently pressing it with a clean towel or cloth. Avoid rubbing, as this can cause irritation and redness. 
Step 5 – Complete your Skincare Routine 
Follow up with your favorite toner, serum, and moisturizer to reinforce hydration and keep your skin looking and feeling its best. 
Our
Cleansing Foam
Omorovicza's Cleansing Foam is a gentle, sulphate-free cleanser that is perfect for all skin types, but particularly suited to those with oily or combination skin.  
Infused with copper gluconate, and apple pectin, it is the best Cleansing Foam to purify, revitalize and brighten to leave you with beautiful skin.  
Omorovicza's patented Healing Concentrate™: Increases collagen production and repairs the skin by reducing cellular inflammation, revealing its youthful vitality.   
Copper Gluconate: Draws out excess oils to detoxify and purify the skin, thus minimizing blemishes and controlling natural sebum levels. 
Apple Pectin: Retains and boosts hydration and soothes the skin for a beautifully supple complexion.